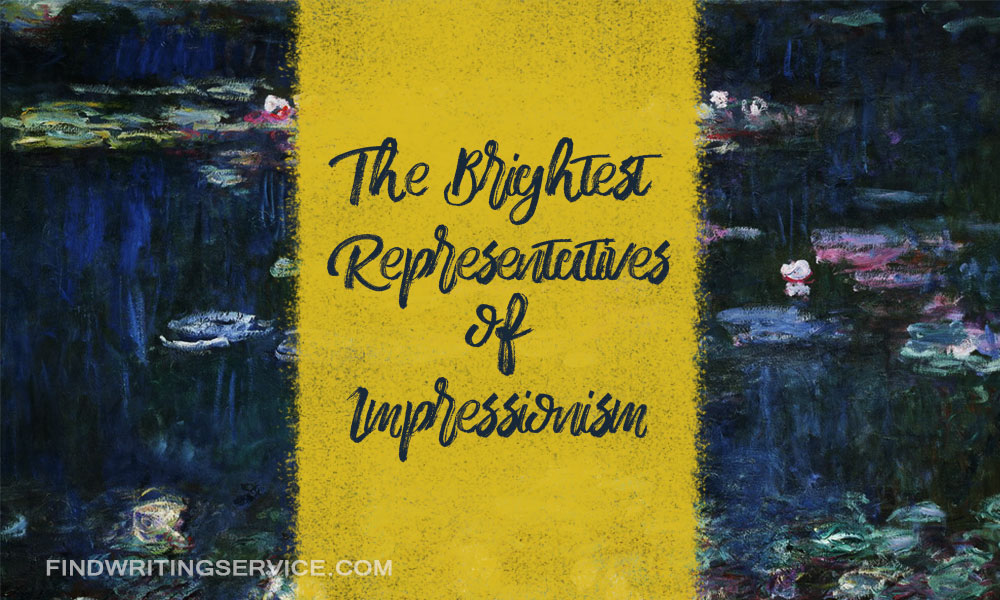 How can anyone hate Impressionism? It is the first movement of modern art. Impressionism as an art movement is able to charm everyone. It is reflected in extremely beautiful works. Although this art is understandable, sometimes it is difficult to fix an eye on a particular picture, photo, or another piece of Impressionism. The very moment when you see it, will remain in the memory forever.
In this essay we would like to tell you a brief story about Impressionism. Also, we want to tell about some of the brightest people who represent this art. Our custom essay writing service has many interesting and helpful information for you. If you are struggling while writing a paper, chat with our agents. We can help you in all tangled writing assignments.
Short History of Impressionism
1. Impressionism as a style of art was born in France. The stream occurred in the middle of the 19th century. Every art movement has its representatives. The era of Impressionism captured people who managed to convey the reality through their impressions.
Usually when people talk about Impressionism, they mean painting. However, this movement influenced music and literature. People chose special methods to reflect the sensuality of life as their own vision.
The main reason of why Impressionism appeared in the 19th century was the desire of painters to develop their own ideas. They were tired of methods and goals that academism suggested. That is why artists started to create paintings following their own line.
2. The term "Impressionism" came out of Claude Monet's picture. French critic Louis Leroy underestimated Monet's famous work "Impression, Sunrise". So, the name of the style had a negative shade. With the time's flowing this bad meaning lost its influence. Now the world knows this movement as something inspiring and real.
3. The first exhibition of impressionists took place in 1874. 30 painters presented 165 works. There Leroy saw the picture of Monet. Now a person can see it in Paris, in Marmottan Museum. This is how unexpectedly life has turned all events.
4. The birth of Impressionism started long ago. Representatives of Renaissance tried to reproduce reality through bright colors. El Greco and Velazquez caught this idea. Their works had a huge impact on Edouard Manet and Renoir. English painters played a big role in preparing the way for the stream to burst.
5. Japanese art influenced impressionists and their followers. Masters of engraving displayed images on the piece of paper differently. Impressionists borrowed their idea.
6. In order to defeat Impressionism, its representatives had to gather in café Guerbois. There Edouard Manet addressed to artists and poets. For these reasons, he became the major protector of the modern art.
Indeed, bourgeois society did not accept the idea of impressionists. In the article "The Exhibition of Rebels" Emil Kardone wrote disapproving and mocking expressions according new movement artists. They were accused of immorality and of being not able to work honestly. Nowadays these statements astonish people. What is immoral in landscape paintings of Camille Pissarro and Alfred Sisley, or in Manet's still lives?
Only after several decade society and critics changed their mind. Finally, they saw not impressionists but realists and even classics of French art.
Use our services to learn interesting facts about art movements and their influence on society.
Famous Representatives of Impressionism
1. Oscar Claude Monet. He was one of those people who played a fundamental role in the appearing of Impressionism. Some experts consider him one of the most important painters of the Impressionist movement. During his lifetime Monet created for about two thousand five hundred paintings and drawings.
Claude Monet always wanted to be an artist. Despite his father's will, Monet entered the local art school when he was 10 years. At the age of 15 he successfully sold his caricatures. This is how he attracted experienced artists. They helped Claude Monet to improve his work.
Monet was not pleased with traditional techniques that were taught in school. Very soon he abandoned art school and joined the group of artists that tried to paint in different way. These artists were concentrated rather on the light and the color than on the accurate painting.
Claude Monet had a difficult life. He was very poor. Only at the end of the 19th century his works got big success, so he could sell them. Nowadays his paintings one can see in different museums all around the world.
2. Edgar Degas. This artist was born in a wealthy family. His favorite occupation, when Degas was a little boy, was visiting the Louvre together with father. When Edgar was 18, he turned to art. His father encouraged him greatly, but he did not want his son to make art his life career.
Lamothe was Degas' mentor. He taught Edgar to use accurate contours in drawing. Several times Degas traveled to Italy. There he enjoyed the masterpieces of Italian Renaissance. At the age of 25 Edgar started to work on a portrait "The Bellelli Family". Soon it became hugely respected work.
Degas spent much time painting ballerinas and dancers. Usually Degas showed them rehearsing. In such a way he emphasized their hard job. Some people assert that Degas worked on those pictures because they were popular.
3. Mary Cassatt. She was an impressionist from Pennsylvania. When Mary was 16 she was enrolled in the Academy of Fine Arts. She was disappointed by studying program. Soon Mary moved to Paris. Once she saw impressionists' works. She was delighted by Edgar Degas' works.
Mary liked to paint portraits. Mother and children was her favorite theme. She made honest family scenes. Mary portrayed people that were doing everyday things. Her fresh and sincere works inspire many people. 
4. Claude Debussy. Since we are talking about Impressionism, we cannot forget about its influence on music. Musicians as well as painters tried to bring reality into music. They used special rhythm and tonality for this purpose. Claude Debussy belonged to those people who expressed their emotions of impressionists through music.
People used to say about Debussy that he was not banal. He expressed through music the wish to find something unusual and strange. He always found the feeling of music coloring, and often forgot about the clarity of structure.
5. Paul Verlaine. This French poet became one of the founders of Impressionism in literature. The main aspect in the poetry according to Verlaine is the music of poem, not the meaning of words. He always mixed life and work. Paul Verlaine had a very passionate personality. He often got lost in the river of life events and his nature.
French poetry was rhetorical, exaggerative, and solemn. Verlaine changed it into simple, lyric, and melodic art. He managed to unite poetical word with live word. That was an absolute revolution in poetry.
Thank you for following this paper. Read our works, pay attention to Top Classical Music Composers. This one is very good. Apply to our service. We would be glad to assist you.