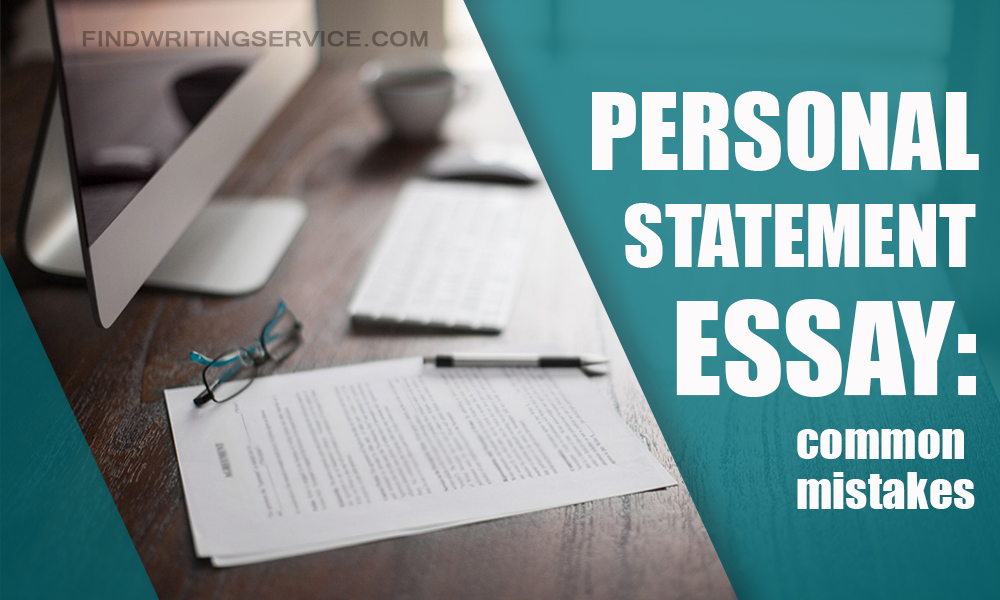 Whatever you decide to do after high school, to enter university or take job, at some stage of your life you have to write an excellent application. An application form wherever one is applying tends to be the same. So, a personal statement is an integral and significant part of application. While a person is writing his personal statement he has to show his skills and experience.
The good news is that if one has written an excellent personal statement, he can use it as a job application covering letter for the rest of his life. Every chief is looking for talented and skillful people. In case your personal statement says in right words that you are a brilliant employee, a chief will pick you among thousand people.
Top widespread mistakes in a personal statement.
1. Not following the formatting requirements that was set up by the educational establishment, and all existing rules, which regulate the writing process of the academic essay.
If you do not want your admission application to be rejected, you need to comply with the demands of the college or university of your choosing. If you fail to do so, you will simply waste all the time and effort that you had put into it and will be denied admission almost immediately. In order to succeed, you need to keep in mind the specific nature of your task and the ways you can get it done correctly.
2. The inability to stay on topic during the entire writing process of your personal statement will result in the immediate rejection of your candidacy.
Any essay, regardless if it is academic or not, must have a proper basis to convey the intended message to its readers correctly. To fulfill its purpose, the text of your paper must be as informative as it can. To make it happen, you need to pay your full attention to stay on topic during the writing of your essay at all times.
3. Using too many general statements will undoubtedly make your essay look too unprofessional and bland. Moreover, it will be hard to convey your thoughts on the topic of your personal statement accurately.
The point of this type of academic essay is to give a meaningful explanation of your opinion towards the topic of your paper. If you are unable to do so, you will end up with a bland and boring text, which will surely reduce your chances of success. As such, we strongly advise you to be mindful of this fact during the writing of your academic paper.
4. Trying to find an excuse to be accepted is generally looked down upon by the members of the admissions committee.
Everyone has some unfortunate circumstances in their life, just as you do. Please do your best to refrain from disclosing any negative moments that took place at some point during your life. Alternatively, do try to show how sharp and vast your knowledge is.
5. Using too much personal information is undoubtedly detrimental to your admission application.
The purpose of the personal statement is to acquire your thoughts, beliefs, and opinion on the topic that you have chosen yourself or was given to you by the admission committee member. However, it does not mean that you need to provide unnecessary and improper information that does not suit the professional nature of such a document.
6. The misuse of a common tongue will make the contents of your document too informal to be considered as a serious educational paper.
Please, do keep in mind that the task of composing a personal statement was made to find out your professional take on the topic of a particular nature. Nevertheless, it is still a formal document, and it must be arranged with great care to the wording that you may use during its writing. Moreover, the improper use of the terminology of any kind will signify your inability to present a meaningful and correctly composed paper.
7. Making the wordplay or the storytelling methods of your essay too sophisticated or even experimental will result in the incomprehensible and a wall of text that is immensely hard to read.
One of the main qualities that an academic essay needs to have is being easy to read. Because you are a student who is usually mostly inexperienced in the peculiar and confusing nature of the educational type of writing, you sure can make an effort to make the contents of your paper feel alive and vivid. Still, we strongly advise you to go any further than that. With the absence of clear and understandable content, your essay will undoubtedly fail to be understood by anyone who will be going to read it.
8. Do not exaggerate your achievements if you want to be taken seriously by anybody and not just in academic circles.
Surely, you are proud of your own achievements; however, you do not have the need to go overboard with it. There is hardly any need to present your strong sides with great fanfare. You are a student who wants his or her application to be accepted by the college or a university, so do try to evaluate your accomplishments adequately.
9. Hiding your achievements or being too modest over them will not take you anywhere.
Your personal statement and your application, in general, will not be taken seriously due to the fact that you will come across as the weak-willed and insecure person. This way, your personal statement would not stand out even if you will comply with all demands from your respective educational establishment. Thus, the time and effort you have spent to make your paper will be utterly wasted, and your application will be immediately returned along with the letter of rejection.
10. The most widespread mistake that you can make during the writing of your admission essay is to shift the focus of your personal statement on yourself.
Many colleges and universities are interested in giving their admission to the people that have the skill, ambition, and determination to contribute to the name, reputation, and prestige of the educational institution that they are want to be accepted in. For example, if you are good at any kind of sport, it will be wise to mention that you want to play for a college or university team of your choosing to enrich the reputation of your future alma mater.
11. Trying to make the contents of your academic statement too stereotypical.
The success of your personal statement will play a massive role in the admission committee decision.
Using the stereotypical or cliché expressions and wording will significantly reduce the emotional message that you intended to convey through your writing. Therefore, you need to make your personal statement sound as alive and as interesting as you can. However, do keep in mind that any creativity on your part must be done in moderation with respecting and following any rules or requirements of your educational institution.
12. Under any circumstances, do not forget to proofread your documents and check them for any possible flaw beforehand.
When your future is at stake, you surely do not want to take the unnecessary risks that could be avoided with a little effort and a small amount of attention. It would feel utterly bitter about having your admission notice being rejected due to some small and insignificant mistakes that remained in your document after you have finished writing it. To avoid such an unfortunate turn of events, you need to continually stay vigilant even after it seems that you have completed your writing entirely.
The mistakes listed above are actually easy enough to avoid if you have the necessary knowledge and the required skills. Thus, we strongly encourage you to give your best and learn everything you can regarding the intricate and peculiar nature of academic writing and the unique requirements that your college or university may have to its potential students.
Therefore, if you want your application to be successfully accepted by the institution of your choosing, you need to be prepared to deal with the potential spontaneous situations along the way. Worrying is normal, but the fear will not get you anywhere. Thus, it will be wise to give some serious thought to improve the ability to think and perform without any issues under the high level of stress or emotional pressure. Doing so will immensely improve your chances of achieving anything that you dream about successfully!
Common stylistic mistakes in academic writing.
It is always hard to compose a meaningful and engaging piece that can move the hearts and minds of its readers. The most commonly accepted misbelief is that in order to make your text as interesting and as easy to read, as it can be, it must have the unusual and bizarre topic, an overly creative wordplay, and endless plot twists. Unfortunately, this information is usually overlooked by the teachers, professors, and students alike, and it often takes a long time of constant effort and practice to realize it.
Moreover, many students do not have the required knowledge in the peculiar nature of academic writing and its numerous rules, which can be utterly confusing for a beginner. Of course, you can try to write something on your own, but you will be taking a considerable risk and possibly ruin your chances to be accepted into the college of your choosing. We cannot stress this enough; when your future is at stake, do not try to rely on your luck too much. Either leave this task to the professionals entirely or do your research in relation to the rules and regulations used in academic writing adequately. However, do remember that to achieve any meaningful results in this scientific discipline, you must spend a lot of time and a tremendous amount of work.
Even if you thoroughly checked your essay and corrected all of the grammatical mistakes you can found, your paper can still have some errors that are the easiest to overlook, namely the stylistic errors. If you are mostly inexperienced in the academic writing of any type, your essay, without a doubt, will have some of them in its contents. Thus, we decided to list a number of the most frequent stylistic mistakes you can find in any academic essay to help you sharpen your writing and minimize the chances of you committing them. Thus, we strongly advise you to pay close attention to the information presented below.
There are many personal statement essays. In this work we wanted to show the importance of this paper because it influences someone's life. Our professional essay writing service possesses a wide variety of help. Chat with our agents if you have questions. We will assist one with great pleasure.
1. Too many repetitions of the same words or expressions.
This usually happens when a student wants to accentuate the specific idea behind the contents of the academic essay. This error will make your paper look immature and unprofessional, so be sure to avoid it to the best of your abilities. Try to be mindful of what words do you use during your writing and how often do you insert them into the text of your essay. There are a lot of correct ways to highlight a particular message or idea, so try to learn more about them to enrich your writing.
Incorrect:
"The level of global warming... Global warming..."
Correct:
"The level of global warming... Climate change..."
2. Using too much passive voice constructions in your paper.
Many students try to make their paper sound more objective and end up using a lot of passive voice constructions in their sentences. This is a common misbelief that your writing will sound more professional and scientific. However, this is not the case at all. Such constructions will weaken your writing considerably, and it will significantly hinder the readability of your essay. On the other hand, the usage of active voice will make the task of delivering your message much more straightforward.
Incorrect:
"The book was written by its author in 1913."
Correct:
"The author wrote his or her book in 1913."
3. The inadequate length of sentences used in the academic essay.
This is a common mistake among the students who want their paper to appear more professional and laconic, and at the same time for those, who wish to provide the extensive but unnecessary explanation to each term or idea listed in it. However, many of them do not realize how wrong this approach is before it is too late. If you wish your writing to look as professional and as stylistically correct as possible, you need to pay close attention to the length of your sentences. It will help you to maintain the readability of your essay and will sharpen your writing skills at the same time.
Incorrect:
"The society is ignorant. Many people today don't contribute to charity in any way."
Correct:
"The society is ignorant, and thus people today do not contribute to charity in any way."
4. Mixing all the terms and wording from various writing styles in one document.
Before you start your writing, make sure to discern the purpose and the nature of your essay correctly. Doing so will help you to stay on topic during your writing and maintain the stylistic purity of your document. For example, the expressions, which are generally used in the informal writing style, will look out of place and will make your paper look utterly amateurish. To avoid such a grave mistake, you need to have profound knowledge about the writing style of a document that you are going to write.
Incorrect:
"The water will turn into steam at one hundred degrees Celsius."
Correct:
"The water evaporates at one hundred degrees Celsius."
5. The use of contractions in any form of academic writing is generally inadvisable unless you are required to show the example of it in your paper or explain how this principle works. The contractions must not be used in any type of formal documents.
Incorrect:
""She didn't want to create...""
Correct:
"She did not want to create..."
6. The mixing of formal and informal wording in the same document signifies your lack of competence in the academic writing field.
Since you are applying to the higher education establishment, you need to make your admission to look as professional and creative as possible. Thus, if you are unable to discern the difference between formal and informal writing, you will surely come across as an incompetent person whose academic abilities are severely lacking. Without any doubt, this mistake will result in the immediate rejection of your application.
Incorrect:
"To defuse any possible escalation of the conflict, you need to say sorry first."
Correct:
"To defuse any possible escalation of the conflict, you need to apologize first."
These errors are easy to overlook, but the negative effect they have on the reception of your paper is immense. Therefore, try your best to correct them and adhere to the rules and requirements of the academic writing wholeheartedly.
Vocabulary mistakes in a personal statement.
In any kind of formal academic writing, you need to follow the specific vocabulary requirements. However, many students find them confusing and immensely hard to follow. Therefore, we decided to list some of the most widespread vocabulary mistakes to help you improve your writing skills.
1. The usage of slang in the academic essay unless required to do so.
Many people today use the slang terms so extensively that in some times they fail to distinguish the difference and put such terms into their academic essays by mistake. Due to this reason, many young people have rejected admission from the educational institution of their choosing.
2. Incorrect use of homonyms will make your essay lose any credibility it may have instantly.
By doing so, you are confusing the meaning of the words you are trying to insert into the contents of your paper, but fail to recognize its correct spelling. It is a significant mistake in any kind of writing, and it indicates that your knowledge of the language is extremely lacking.
Incorrect:
"He was considered as a lose criminal."
Correct:
"He was considered a loose criminal."
3. Inaccurate word form of any kind is a major mistake you can commit while writing any kind of academic document.
This mistake is hard to spot, but it can reduce the points you will receive for your personal statement. We suggest you pay close attention to the text of your essay down to every word if you want to avoid it. It will make the task of proofreading your essay significantly harder, but it will substantially reduce the risk of refusal from your college or university.
Incorrect:
"This event symbol..."
Correct:
"This event symbolizes..."
How to avoid any mistakes successfully?
Everyone can commit a mistake, it is unavoidable, and there is nothing to be ashamed about. Therefore, do not stress over it during your writing. After the completion of your essay, make sure to proofread it, and correct every single mistake you can found. Editing is the most crucial step in any type of writing, be it academic or any other. Do not be negligent and put as much time and effort as necessary to make your paper as flawless and impactful as it can be!
Common Mistakes in a Personal Statement
Let us figure out what errors can deprive you from entering college of your dream.
Lack of flow. When someone is making his personal statement, he is writing his story. Do not jump from one event to another. Make your story smooth. There must be connection between paragraphs. They must be linked.
Tell but not prove. Imagine that a person is telling that he is a brilliant tennis player, but he does not show it. Do not hide your passion, show it.
Make it too long. Do not make your personal statement too wordy. A person who will read it has several minutes to scan your paper. This work must help other to have a general idea of who you are. Make it compendious and interesting.
Another common mistake is a boring paper. Even if one's personal statement is short, but it does not engage readers, it will fail.
Do not share your life. While creating a paper, try to reveal some piece of information about yourself. This is your chance and your life. Make an essay interesting and unique.
Not being yourself. Do not wear any mask. Reveal your life and your talents. Do not try to be someone else. Calm down and show the pluses that you possess.
Dumb jokes. If someone wants to include a funny story or a joke into his essay, he/she must be sure that it sounds well. Ask people who can help you and explain whether your joke is clever or not.
Fail to provide a reason for institution to accept you. Remember that a purpose of your work is to enter into a wonderful future. One must demonstrate his ability, talents, and desire.
Now you almost know what is a personal statement essay and how to write it correctly. Continue to read.
Prepare a paper in the last few days. It is not wise to be in a hurry while writing personal statement. Find time to do it properly. You need time to think, to make an outline, to gather all your thoughts. Then transfer all into a brilliant essay.
Skip editing. Proofread your paper many times. Check if there are any grammatical or spelling errors. Maybe you mixed up names or events. This essay influences your life. Make it perfect.
By the way, if you tell us, "Check my essay for errors", we will do it quickly and effectively. Our writers can edit, proofread, and make papers. For these reasons, chat with us any time.
How to Write Personal Statement
1. Make research. This is the first thing that someone has to do before writing. Start research courses you want to apply for. Find out what topics will you study at the university, and what are the methods of learning in this institution.
So, when you will write your personal statement, mention in your paper the importance of a program that this university possesses.
2. Take your time. A person needs weeks and even months to think and to write. First, one may write a long statement, then edit and cut extra sentences.
Let your story flow. Put down all your thoughts. Sometimes a brilliant idea comes unexpectedly. Jot it down, then check for errors. Leave enough time for editing but edit your paper later.
Remember that personal statement essays for college are not easy to write. Someone needs to prepare to write good work, the one that will make an admission tutor says, "Yes, I want you to study here."
3. Start with a piece of paper. Divide it into two and write in the first column reasons, motivations, and inspirations that made you interested in this university.
Support your words with examples. Now write about your usual activity. It may be half time job or club membership. Say what experience you have gotten from these activities.
4. Show that you are enthusiastic person. You must love subjects that you will study at university. Maybe your extra curriculum activity is somehow connected with your subjects. Write about it to make a good example.
5. Someone's personal statement must sound genuine. Write what you are actually interested in. If you like reading, speak about particular genre or book. Prove that this is true. Be honest, do not make your essay fake.
Keep your writing lively. Nobody wants to read boring and flat essay. Yes, you are writing a professional paper, but it does not mean that it has to be formal. This work must be vivid.
6. Show tutor what you know about the course. Convince him that you have great organizational skills. Prove that you are able to overcome challenges. Illustrate it by real stories from your life.
7. Do not panic. You are amazing person. You are nice and talented. Believe in yourself and do not give up.
We hope that this Personal Statement Essay is helpful. Thank you for reading our blog. Here you can find everything that you need. If you have questions or someone's guidance, be sure we want assist you.